Estate and Trust Dispute Resolution Attorneys in La Crosse, Wisconsin
At Bosshard Parke, we recognize that conflicts and disputes can disrupt personal lives, businesses, and intricate familial relations. Our commitment is to provide exemplary dispute resolution services that prioritize the needs and objectives of our clients while navigating the complex legal landscape.
Inheritance Disputes: Protecting A Legacy
One of the areas where disputes can be particularly emotional and challenging is in the realm of inheritance. When disagreements arise over a deceased person's estate, the stakes are high, both emotionally and financially. The firm's history of offering trial-tested advocacy ensures that we are well-equipped to handle even the most complex inheritance disputes. Our team works diligently to ensure that our client's rights and interests are robustly defended.
A Comprehensive Approach To Conflict
We approach each dispute with an aim to resolve matters amicably, while always being prepared to escalate to more formal proceedings if necessary. Our attorneys are trained in various dispute resolution techniques, from mediation to arbitration, and are adept at tailoring their strategies to suit the specifics of each case.
We chose Andrew Bosshard and Bosshard Parke because my wife and I trusted that they had our best interests in mind. Andrew is very dedicated to his profession, and he was very easy for my wife and I to work with as he developed such things as our wills and business documents. When we needed a quick turnaround with a business lease review or extra time explaining options in our will, Andrew was always there to give us what we needed. If we ever need legal help or advice, we have complete confidence that the Bosshard Parke team will have the answer. – A.M.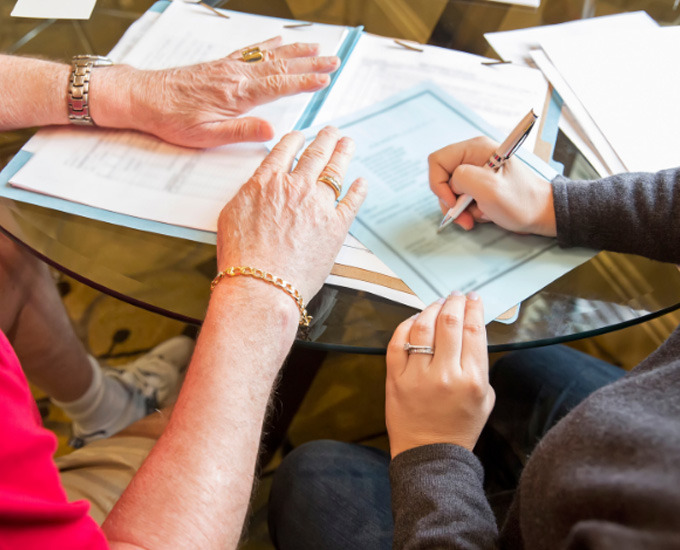 The Right Blend of Dedication, Knowledge, and Genuine Care
At Bosshard Parke, our strength lies in more than just our legal knowledge. We dive deep into every dispute, ensuring that we take every nuance into account. Our commitment to continuous communication keeps our clients informed and empowered, giving them confidence every step of the way. From the initial stages of mediation to the intensity of the courtroom, we stand ready to fiercely champion your rights. With us by your side, you're not just getting representation, you're gaining a trusted partner committed to your peace of mind.
If you find yourself in need of expert dispute resolution services, whether concerning inheritance, business disagreements, or any other matter, Bosshard Parke is your trusted partner in achieving favorable resolutions. Our legacy of excellence and commitment to client satisfaction positions us as a premier choice for all your dispute resolution needs. To request a consultation with a helpful, knowledgeable lawyer ready to answer all your questions about dispute resolution, call us at 608-782-1469 or click the button below.